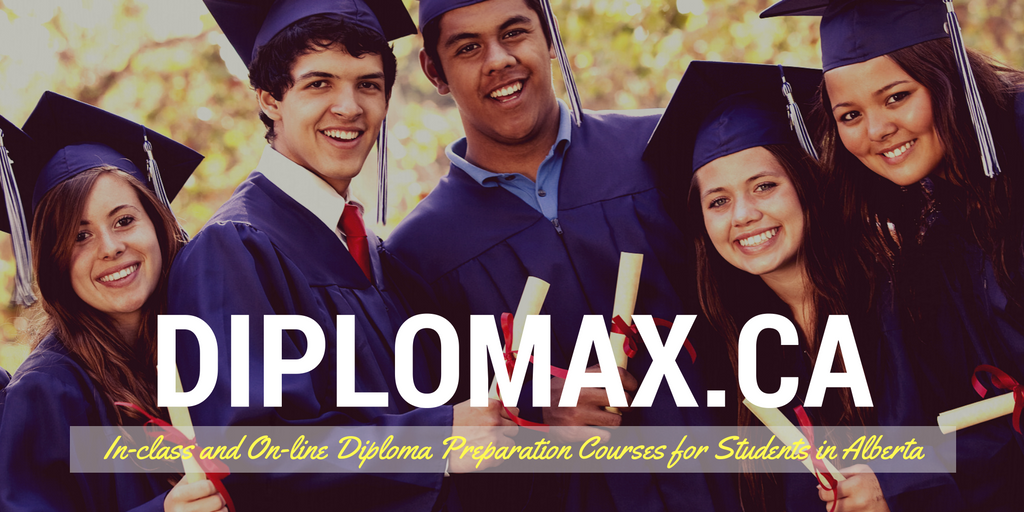 Writing any diploma exams this year? Looking for face-to-face help to prepare for the January or June diplomas? DIPLOMAX In-Class has it for Edmonton and areas students! Don't live close enough to Edmonton to participate? Don't worry! DIPLOMAX On-Line is for you! It is a comprehensive VIDEO REVIEW that comes with a complimentary copy of the Instructor's Study Notes. Looking for something that you can use all year long with class assignments, quizzes and unit tests? iPrep Plus has just what you are looking for! Use the electronic study notes with video support for the 10 toughest topics!
DIPLOMAX.ca is an amazing new service that has the support you need to help you do your best on the diploma exams and your in-class assignments - no matter where you live in Alberta. As the competition for scholarships and entrance to quota faculties becomes more challenging, it is increasingly important to achieve the highest scores possible on your year-end grades and the provincial diploma exams. DIPLOMAX.ca has products and services designed to help you do just that!
Recognizing the need for quality, affordable resources that students can access anytime, anywhere, and on any device, Noel Kunst, noted educator, former assistant superintendent, and now independent consultant, put together a team of experienced and talented instructors to create "what students need" to support their classroom learning and maximize their achievement results. If you, or anyone you know, is taking Biology 30, Chemistry 30, English 30-1, Math 30-1, Math 30-2, Physics 30, Science 30, or Social 30-1, have them visit www.diplomax.ca to find out more about the new products and services developed especially for them! Check your school counselling department for printed information about the great products and services available to you through DIPLOMAX.ca!
DIPLOMAX.ca Year-long Support to Classroom Learning.